About Us
We sell discounted, low cost, all-inclusive vacation packages of all types and cruises of all types
Although our core business has always been discounted charter vacation packages to Mexico and the Caribbean, ie Apple Vacations, Funjet Vacations, TNT Vacations, Vacation Express, we also sell and discount travel/vacation packages with all airlines to all destinations worldwide. We also sell cruises of all types to all worldwide destinations.
Customer Support
Choose from almost any destination worldwide, for example: Caribbean, Mexico, Latin America (Costa Rica, Belize, etc), South America (Brazil, Peru, etc), North America (USA, Canada, California, Vegas, Florida, NYC, Disney, Univeral, etc), Australia, New Zealand, South Pacific, Europe, Africa, etc.
Memberships and Certifications

Vacation.com Member

IATAN (International
Airlines
Travel Agent
Network)
ACCREDITED AGENCY

APPLE VACATIONS AWARD WINNING AGENCY (GOLDEN, PREMIER, PLATINUM, CRYSTAL AWARDS)

FUNJET VACATIONS 500 CLUB AWARD WINNING AGENCY

DELTA VACATIONS STAR AWARD WINNING AGENCY

UNITED VACATIONS STAR AWARD WINNING AGENCY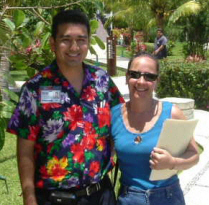 Picture of Marcy with a hotel guide
during a tour of the Riviera Maya
Discount Charter Vacations.com is the online booking partner for Happy Landing Travel, a full service travel agency based in Pittsburgh, PA owned by Frank and Marcy Gossman. We specialize in two types of travel: inclusive vacation packages and cruises. We arrange all vacations through America's most popular and most reliable vacation package operators such as Apple Vacations, Funjet Vacations, Vacation Express, Worry Free Vacations, TNT Vacations, Travel Impressions, Tauck, Globus, Trafalgar, Central Holidays, Insight, Pacific Delight, Pleasant Holidays, Latour, Aeromexico Vacations, Air France Holidays, AlItalia Vacations, CIE, Sceptre, Brian Moore, Blue Sky, Isramworld, Contiki, etc, etc. and cruise lines like Royal Caribbean, Carnival, Celebrity, Princess, Holland America, Norwegian Cruise Lines, Costa, Regent, Silver Seas, Avalon, Viking River Cruises, Windstar, Blount, etc. An all inclusive vacation will include everything to get you there and back: round trip air, car or transfers, hotel, meals, drink, and tips, or, you can schedule air and hotel separately if you wish. Our cruise choices can be booked with air or as cruise only. We will always save you time and money.
You'll always get personal service and discounted prices. No hidden charges. No service fees. If you have a problem on your trip, we will fight to get redress for you. That is just one of many reasons to book your next vacation with us. With 20 plus years in the travel business, our staff of experienced agents has extensive training, knowledge, first-hand world-wide travel experience.
We visit the destinations, stay in the resorts, take the cruises and fly the the airlines offering the charter vacation packages, vacations, and cruises that we sell to you. Want to stay closer to home? We have traveled to all 50 states. So take advantage of our knowledge and experience. Our resort reviews and subsequent ratings are based upon our experience at the resort and the opinions of hundreds of thousands of vacationers who fill out Satisfaction Questionnaires supplied by the vacations carriers such as Apple Vacations, Funjet Vacations. When you arrange your vacation through us, you can be sure your trip will be booked with an experienced, reputable, name brand vacation supplier who has a proven track record and a demonstrated concern for your well-being and traveling safety.
Furthermore, we discount the lowest prices, including sales, of tour companies even further by taking 5-10% off while offering you a wide variety of resorts and cruise line vacation packages - from luxury to budget. Our motto is "a cheap vacations does not have to feel cheap." Our goal is to meet or beat your lowest written charter vacation or cruise price quote. Call us now at 1- 866-542-8747. We will be glad to give you a quote, make all of the arrangements for you and book your next vacation. We accept all major credit cards.
Book with Discount Charter Vacations today and you get experienced support, personal service, competitive travel pricing, help with unplanned difficulties and guaranteed satisfaction. You will be pleased with our customer support . That's how we earned awards from so many tour companies including Apple Vacations and Funjet Vacations. Take advantage of our resources to plan a great vacation or cruise to Mexico, the Caribbean, or almost any destination in the world.
Explore vacation packages and book hotel, airfare and car rentals.
Check out travel resources we have especially for our clients.
If you know where you want to vacation, fill out a personal travel planner or a group travel planner and we will email or call you within 24 hours.
We'll be glad to answer any travel or vacation planning questions and help you plan the vacation of your dreams. Discount Vacations.com is an online booking partner of Happy Landing Travel, a full service professional travel agency based in Pittsburgh, PA and serving travelers worldwide. Happy Landing Travel Service is a full service travel Agency certified by IATAN (the International Airline Travel Agents Network)
How to contact Happy Landing Travel Service, Inc or Discount Charter Vacations:
Happy Landing Travel Service, Inc.
2227 Washington Blvd
Glassport, PA 15045
Phone: 1 (866) 542-(TRIP)/8747
Fax: 1 (724) 733-2427
9:00 AM to 5:00 PM M-F; 12 PM-3PM Saturday.
Call or e-mail us and we will make all of the arrangements for you.
And, remember, a cheap vacation does not have to feel cheap! We will try to meet or beat your lowest written vacation, or cruise price quote. Book now or use our personal vacation planner. Let us handle all of the details for your next vacation or cruise. Call 1.866.542.8747 to speak to an experienced agent today!
Privacy Policy / Disclosure
Your privacy is of the utmost concern to us. We collect personal information from you on our Travel Planner and credit card authorization forms. We use that information to research travel options and prepare an itinerary for you. We protect your credit card/checking account by using secure servers to gather that information. We will not sell your personal information or make it available to anyone under any circumstances. We respect your privacy when you submit a review to us and will not use your full name or geographical location.
From time to time we will send you e-mail regarding our services or special vacation packages that we believe will be of interest to you. WE DO NOT USE SPAM (unsolicited commercial e-mail) TO SEND E-MAILS. If you get a message that appears to come from our domain which has an attachment or graphics and promotes products or services not specially mentioned on this website it did not come from us. Do not open the message. Delete it immediately and run your anti-virus software. Please go here to read further Terms and Conditions for using our site and our vacation or cruise package products.